Welcome to Wolf Archers!
The club is open to recurve, compound, longbow and barebow archers.
Our sessions take place indoors when it's wet or cold, so you can look forward to comfortable modern surroundings, refreshments and full use of club equipment. During better weather, you'll be pleased to know we also have use of an outdoor sports field.
We also hold quite regular social events and club competitions.
Wolf Archers welcomes members of other clubs who hold Archery GB membership. Just bring your Archery GB card along with you to attend one of our sessions.
We meet at: –
Smestow School (Sports Hall)
Windmill Crescent
Castlecroft
Wolverhampton, WV3 8HU
Friday
7pm – 9pm
Sunday
10am – 12am
Introduction to Archery Classes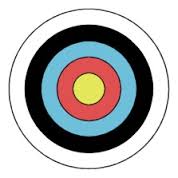 The purpose of the club is to promote archery and make it more accessible in the Wolverhampton area.
We are a friendly club and run regular "Introduction to Archery" classes as well as beginners courses for those wishing to take up archery as a sport. All activities are led by FITA qualified coaches.
Introductory classes cost £10 per person (group discounts are available) and must be booked in advance! See the Activities page for more details.
Please let us know if you have any special requirements prior to booking, using the Contact Us form, so we can advise on the suitability of these activities.
Whether you're a seasoned archer looking for a place to practice, or want to try archery out for the first time, why not come along?